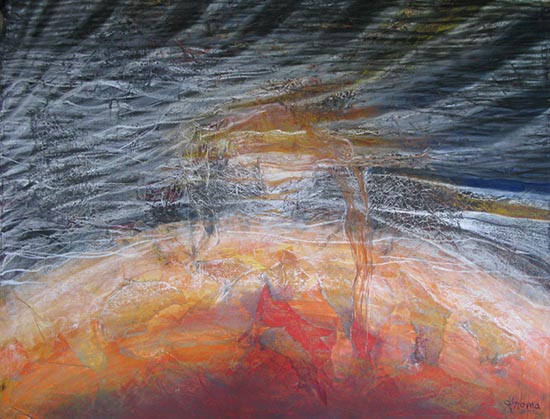 Aqua
Aqua
XVA Gallery – Dubai – 2010
One&Only, Reethi Rah – Maldives – 2009
The exhibition is comprised of several installations which include mixed media paintings and digital art. They each explore in a variety of different ways the very compelling and global issue of climate change.
Aqua raises questions of rising sea levels, increasing temperatures and weather fluxes and the threat posed to life as we know it. It reflects on the need for the co-existence of man and nature. The exhibition looks at the opportunity and challenges this crisis provides for creating awareness and finding solutions. Aqua invites you to be inspired and to dive in and take action. It is apposite that this installation is set in the Maldives, which is in the frontline of climate change. The 'underwater' meeting of its cabinet focused the worlds on the gravity of the situation. Aqua is yet another step in the same direction, a rallying call to highlight a global phenomenon.
The exhibits are an appeal to join hands and reverse the negative aspects of global warming. A passionate plea for protecting our fragile earth.
A curated set of images from the exhibit