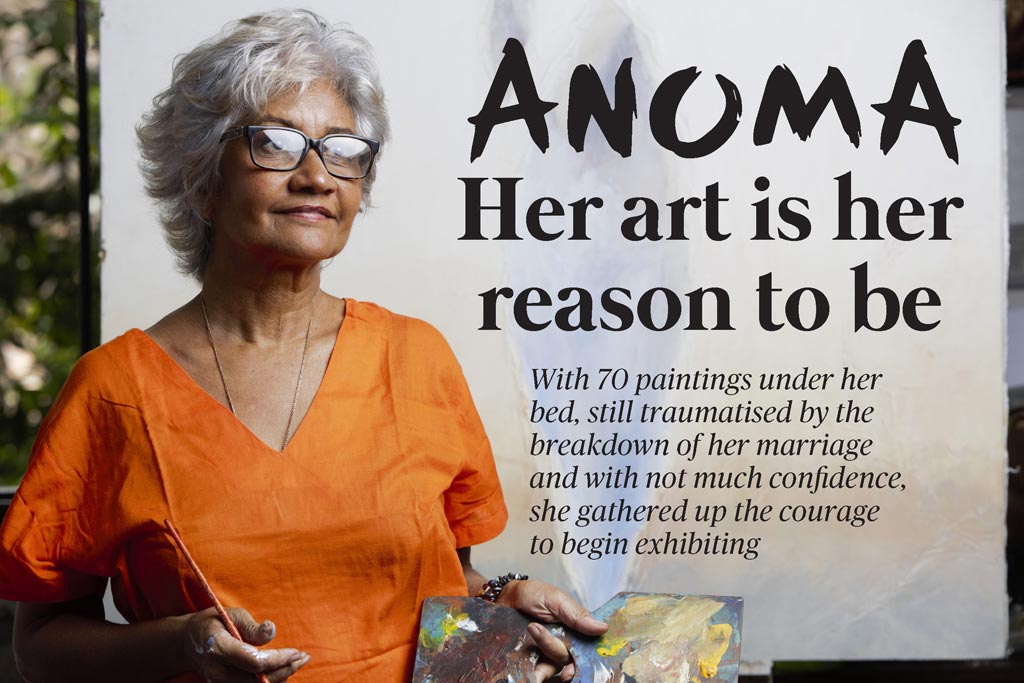 Sunrise Magazine Interview
Article by Minoli de Soysa
The Anoma is the river in southern Nepal where Prince Siddhartha renounced the world before becoming Gautama Buddha by cutting his hair, discarding his royal dress and putting on the robes of an ascetic. Anoma also means illustrious in Sanskrit.
For Anoma Wijewardene, her life has taken her across many rivers and on several winding paths during her long and illustrious career as a renowned artist. From the time she was very small, Anoma was drawing and painting butterflies, deer and ballet dancers and making birthday cards. Her parents encouraged this talent by providing art materials and colourful illustrated books to draw inspiration from. Her father, an accomplished inventor, engineer and Renaissance man, encouraged her talents and her competitive spirit.
When artist Nalini Jayasuriya saw her work while teaching at Ladies' College, she suggested that Anoma could become a designer of textiles. "I didn't know what a designer was at that stage," says Anoma.
When she was 18, as soon as she left school, Anoma departed her safe life in Sri Lanka and headed for the unknown to study design in England, her parents having scuttled the idea of a Fine Arts course that was unlikely to bring a steady income. At art college she learnt about textiles, ceramics, jewellery making, photography and other aspects of design but settled on majoring in textile design and photography for her degree.
"Printed textile design taught me draughtsmanship because you have to draw designs and shapes varying from fluid figuratives and natural objects to precise squares and stripes. Weaving taught me about colour and texture by mixing individual threads in skilful combinations. My versatility and skill levels were honed there," she says.
Anoma was accepted at the prestigious Central St. Martins College, University of the Arts, London, where she did Bachelor's and Master's degrees, earning first class honours at a time when there weren't many Asians around.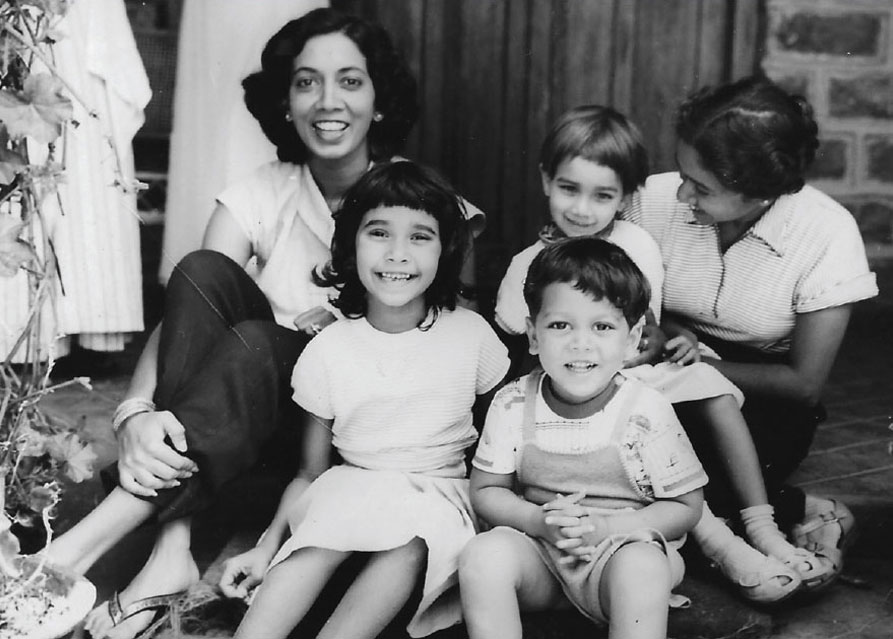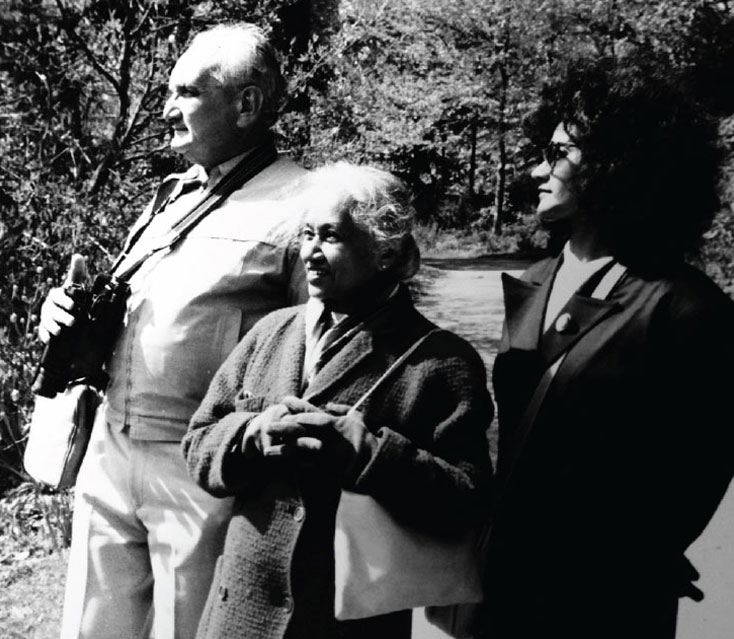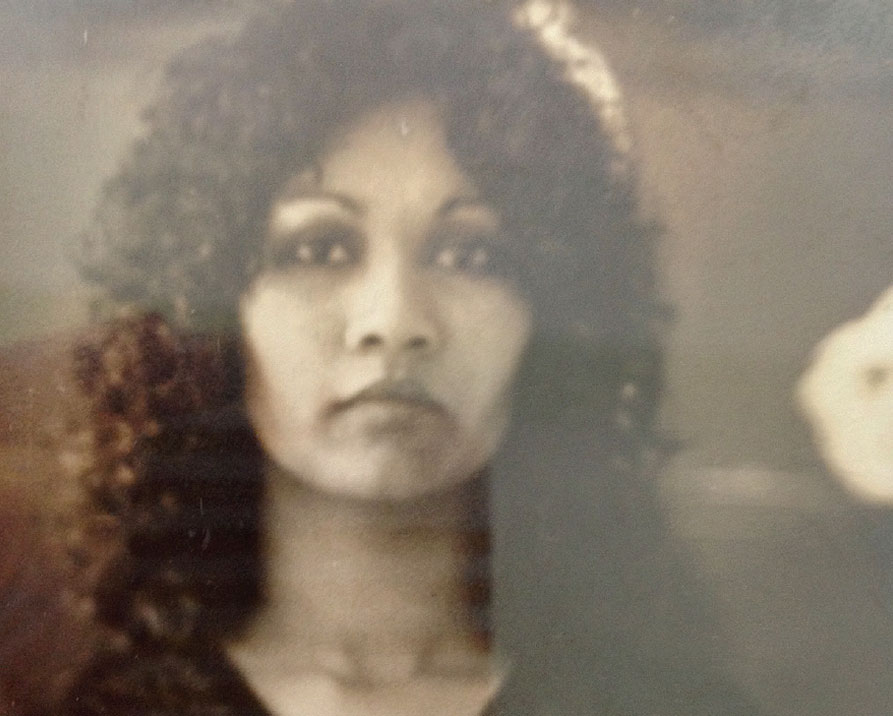 "It was a mind blowing experience, a time of breaking rules in terms of ideas; disruption at its best. It was a hub of heaving creativity with passion and intensity. I came into my own and came alive there. I felt I had come home."
London in the '70s was a place of intense political turmoil where all the problems of the world came to roost. There were demonstrations and marches against nuclear weapons, whale slaughter, apartheid and the Vietnam War. It was an eye-opener for a young girl from tranquil Sri Lanka, an artist with little concern for politics. "We were very much anti-establishment. I marched along with the rest of them and became politically awakened."
While London offered protests and marches it also had the most varied cultural life of any city and Anoma experienced it all, while also working very hard.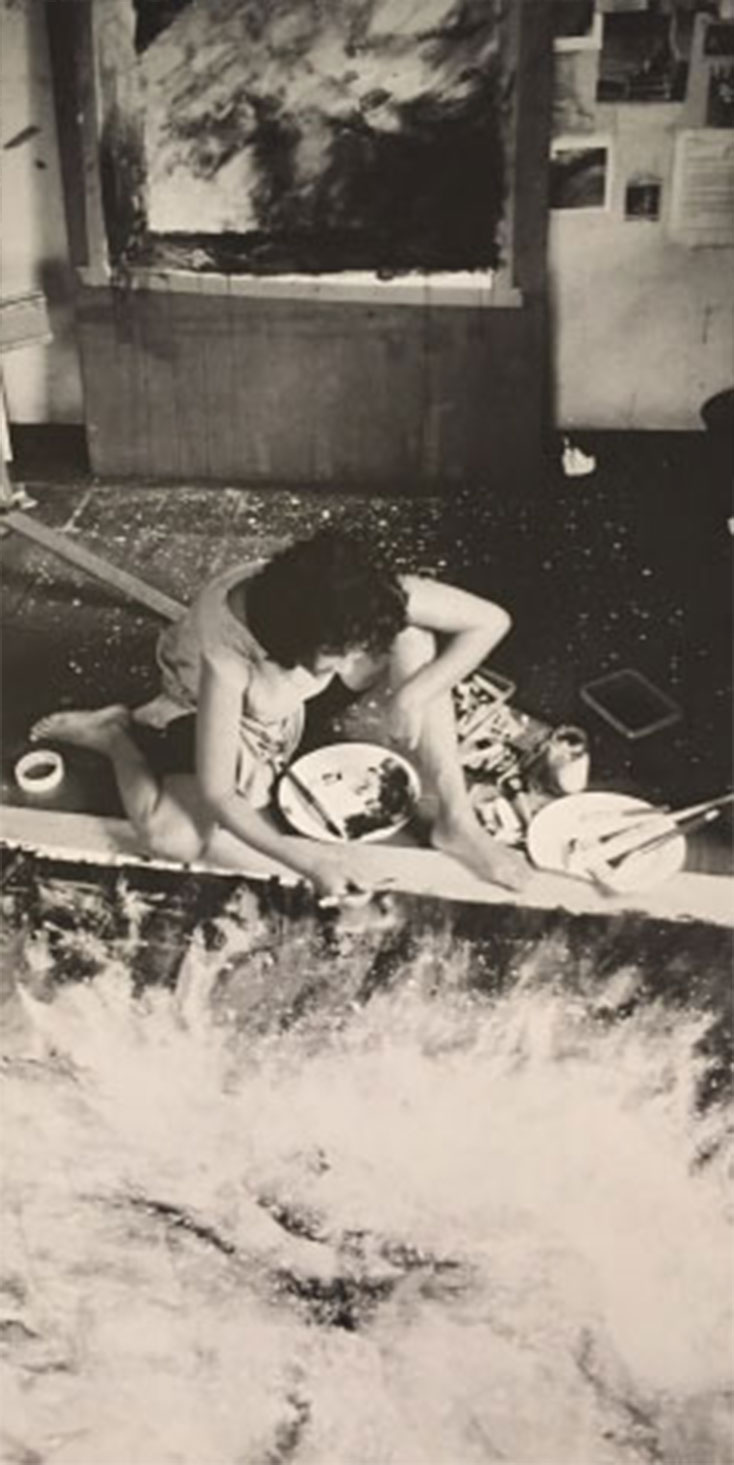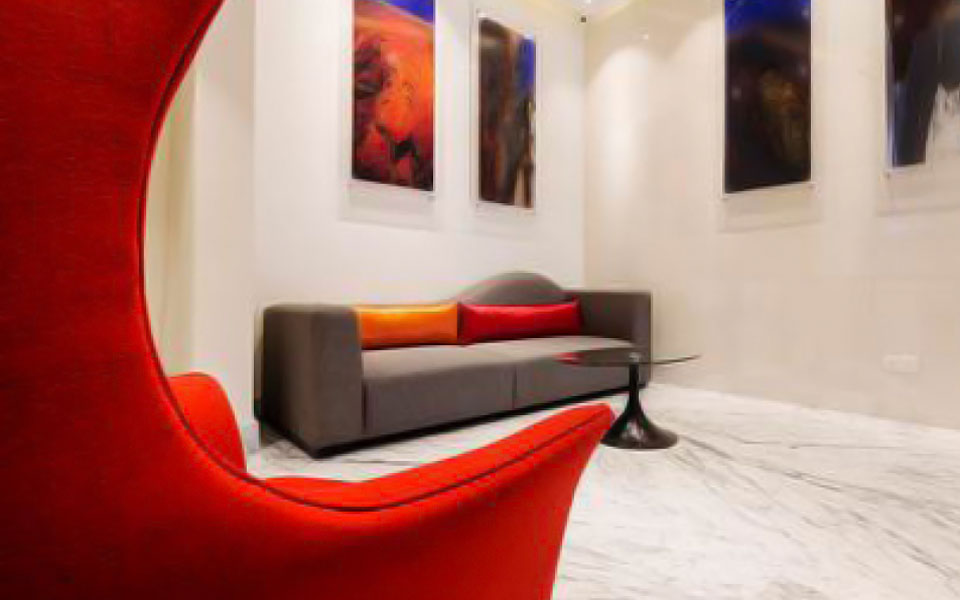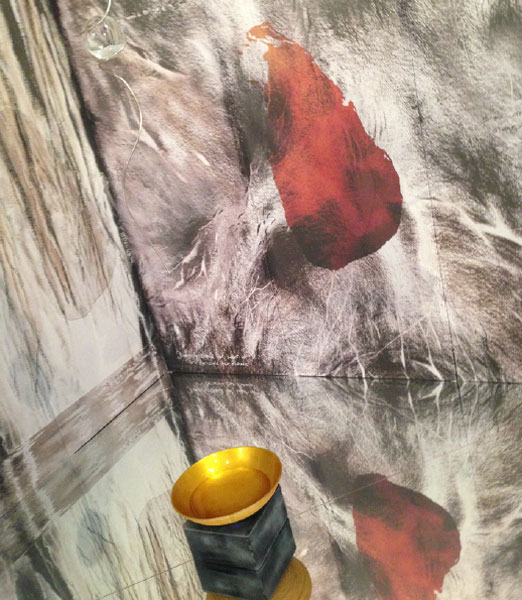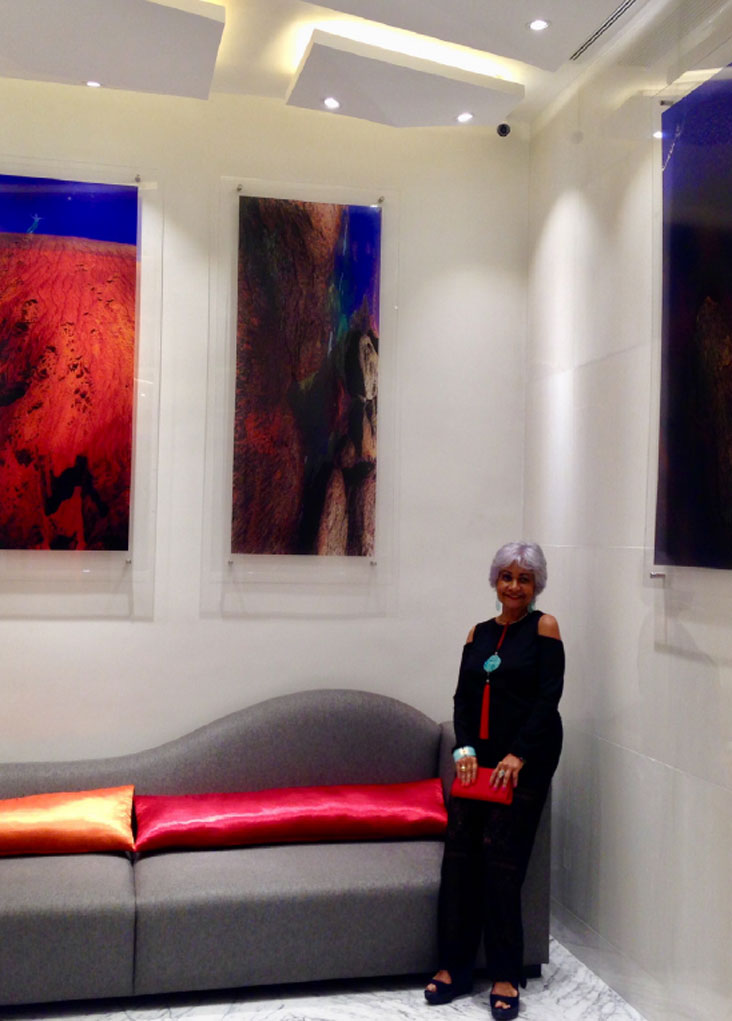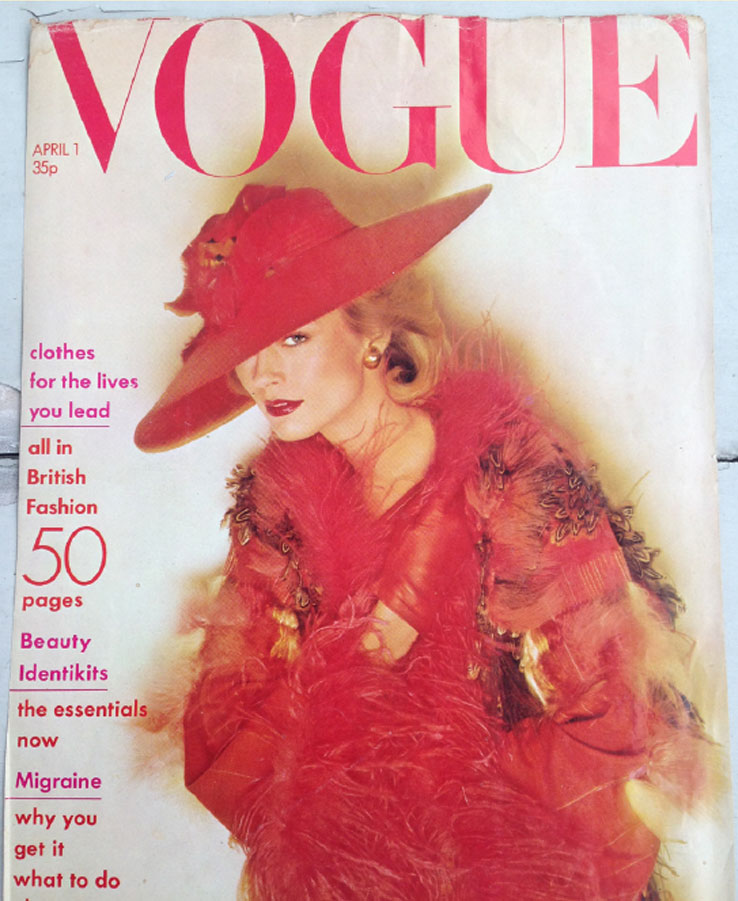 Her first commission came whilst completing her MA, from the iconic popular fashion designer Bill Gibb which led to the excitement of a British 'Vogue' cover when her silk fabric was featured in the April 1974 issue, photographed by David Bailey. "It was a big thrill."
Despite receiving job offers, Anoma decided to freelance after her studies and lived a hand-to-mouth existence for some years taking on a variety of part-time jobs to fund her design commissions. As
a student, she did a postman's job and worked as a shop assistant and in a photographer's gallery and was adept at a variety of tasks. She continued to design and paint, selling her creations through agents.
A break came in the form of a year's grant from the British Council to set up her own studio. Her agents were soon selling her work in the capitals of the world and particularly in New York.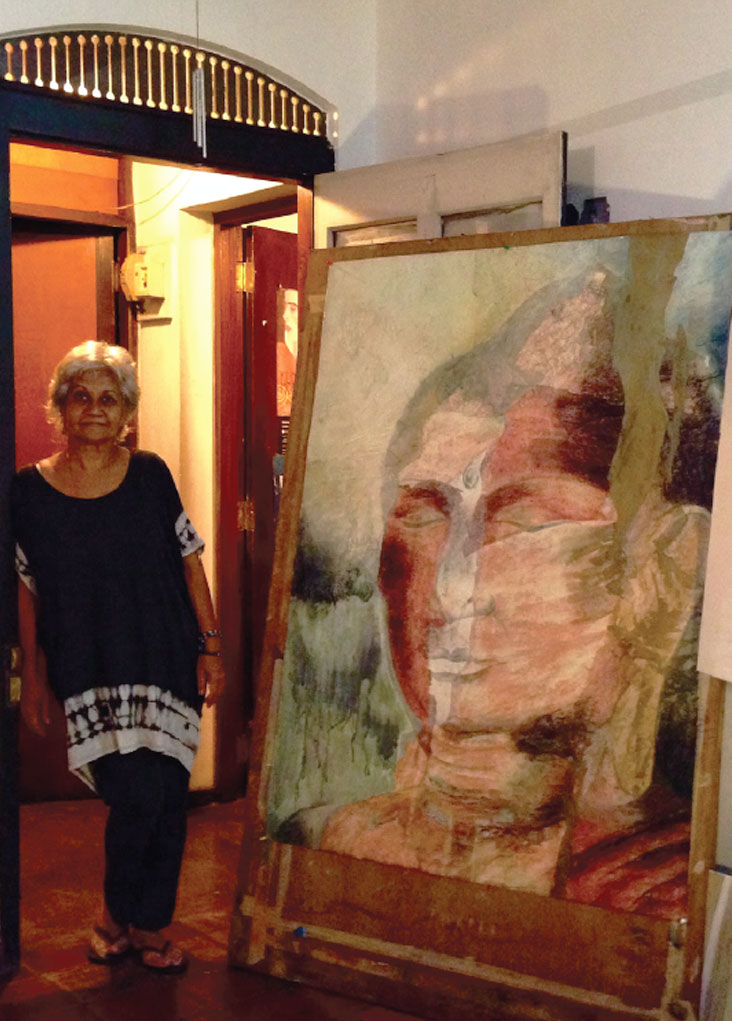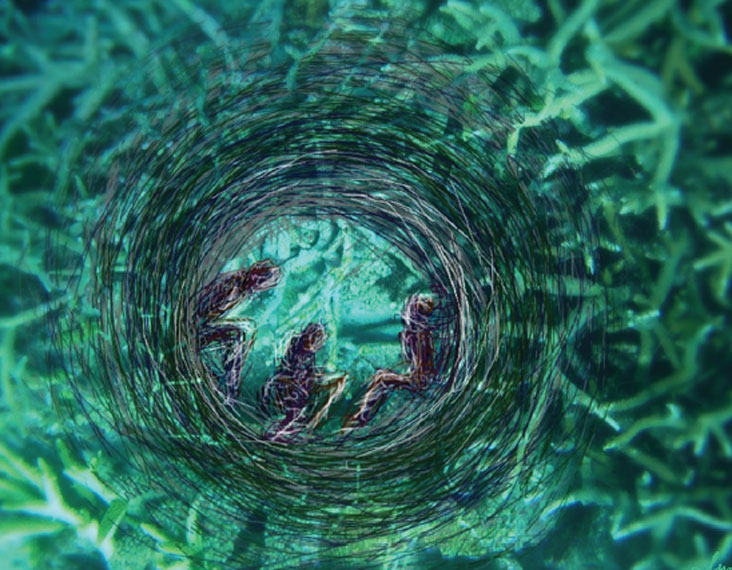 Anoma took on her own marketing for her woven designs, travelling regularly to Paris where she sold her textile designs to top designers including Yves Saint-Laurent, Hubert Givenchy, Pierre Cardin and John Paul Gaultier.
Her bohemian life came to end in 1979 with marriage when she moved to Bath, which was luckily close enough to London for frequent visits and for her teaching stint as a visiting lecturer at Central St. Martins, as well as in art colleges in surrounding cities.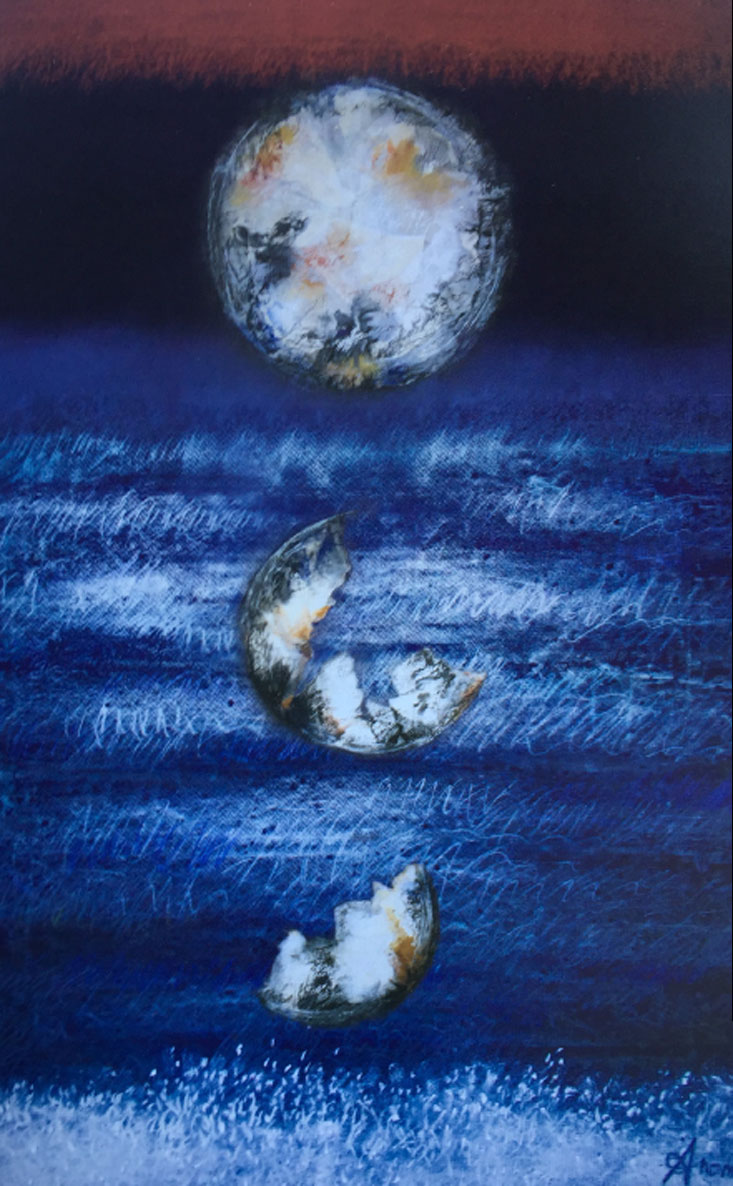 "It was a lot of hard work – juggling the running of a house, designing and teaching in several cities, while always also painting."
That phase of her life came to an end in 1996 after a painful divorce that left her emotionally shattered. For a few years she shuttled between Sri Lanka and England but finally decided to return to Colombo in 1999. In the days before the internet, it was not possible to keep ahead of the new season's styles and colours so Anoma gave up her design work to concentrate fully on her first and real love – painting. That had always been a hope and this seemed the perfect moment to dare to make the move.
"I had 70 paintings under my bed done over two or three years. I was still traumatised by the breakdown of my marriage and I had lost confidence." Slowly, with the encouragement of friends, she gathered up the courage to begin exhibiting and was soon travelling the world, with exhibitions in London, Dubai, New Delhi, Kuala Lumpur and Sydney. It was a gradual healing process, helped by her art, which also became deeper, darker and more meaningful being informed by suffering and pain.
Her work reflects the constant sense of being the other, the observer, whether in England fitting into the country lifestyle or back in Sri Lanka trying to connect
with people with a different experience. "I am always an outsider but that enables me to constantly watch and observe. It is sometimes uncomfortable but it has its advantages too. Having lived in two cultures, I can often see two points of view."
Each painting, she says, is like a relationship with commitment, engagement and passion. It is not that she just splashes paint on a canvas; it is a long and thoughtful process that involves a great deal of rumination as well as research into poetry and prose that inspire her."I dance, I sing; the painting becomes alive to me and becomes a relationship. I may doodle and sketch for months until an idea emerges like a caterpillar from a chrysalis. The themes, shapes and colours reveal themselves and then I can start."
She has collaborated with author Romesh Gunesekera and poet Ramya Jirasinghe to complement her art with words.
The collaborations with activists, political analysts, developmental experts, musicians and performers have all added complexity to her art installations.
"Creativity is like fishing; you sit with the rod and wait until you get a little bite and then you have to reel it in, knowing when to stop."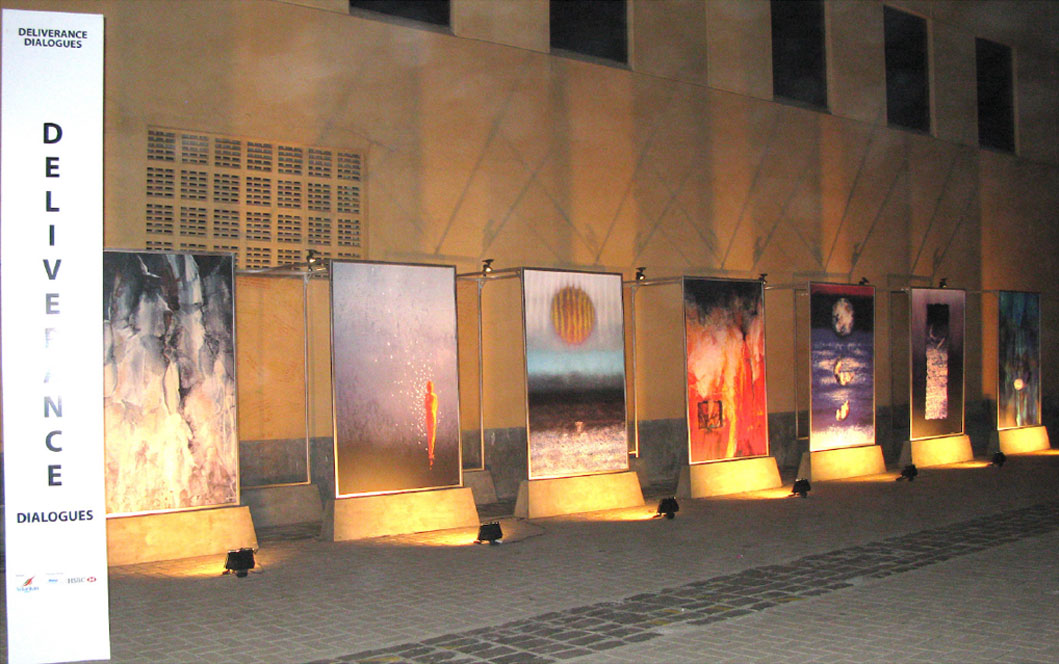 Anoma's art evolves from her decades of travel around the world and in Sri Lanka. Having a sharp visual memory, she remembers the shape of a leaf, the orange of a sunset or the lines on a face.
A recent painting came from seeing a woman cross a deserted street in the rain during lockdown. Her early work reflected Sri Lanka's diverse religions in the arch of a dagoba and the circle of a mosque.
The floating lines in the 'Flow' exhibition were inspired by the Nasca Lines in Peru and the bright red and aqua tones in her climate change exhibition 'EarthLines' were a direct response to the brilliant colours of China.
The symbolic figure in the London show 'The World is not Given by his Father but Borrowed from his Children', is that of Greta Thunberg. The aqua hues of seawater and the crack and fissures in the brown earth are also part of Anoma's visual memory.
Her art is not confined to the canvas or to paper. Drawing on her early training at design school, Anoma has used videos, photographs, sculpture and performance art in her exhibitions. "The theme tells me which might be the best medium to express the ideas."
As well as climate change, Anoma's exhibitions encompass Sri Lanka's most persistent issues such as identity and belonging, loss, transformation, reconciliation and pluralism. Finding unity in diversity is a key concern throughout her artwork.
A visit to Jaffna in 2002 resulted in 'Quest', which was to be paintings but ended up as digital and video art, the first of its kind in Sri Lanka. For two days she wandered around and came upon LTTE cemeteries where she placed small white doves on the graves and took her shots, exciting the curiosity of both the Army and the LTTE who were silently watching. "I had never seen devastation like that before."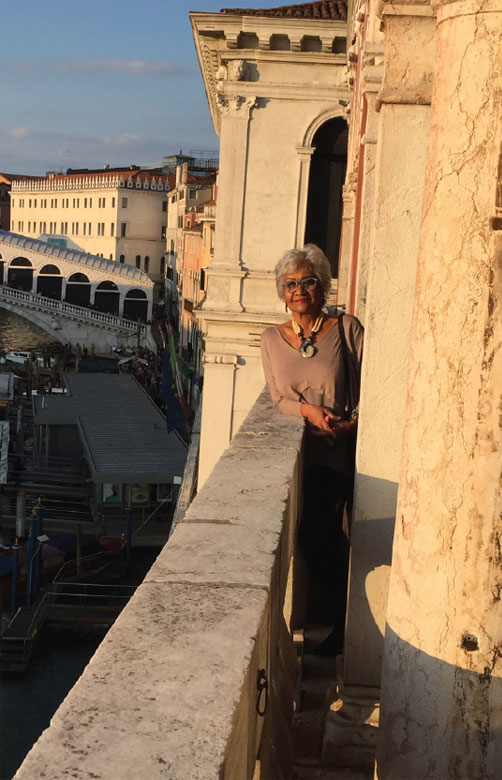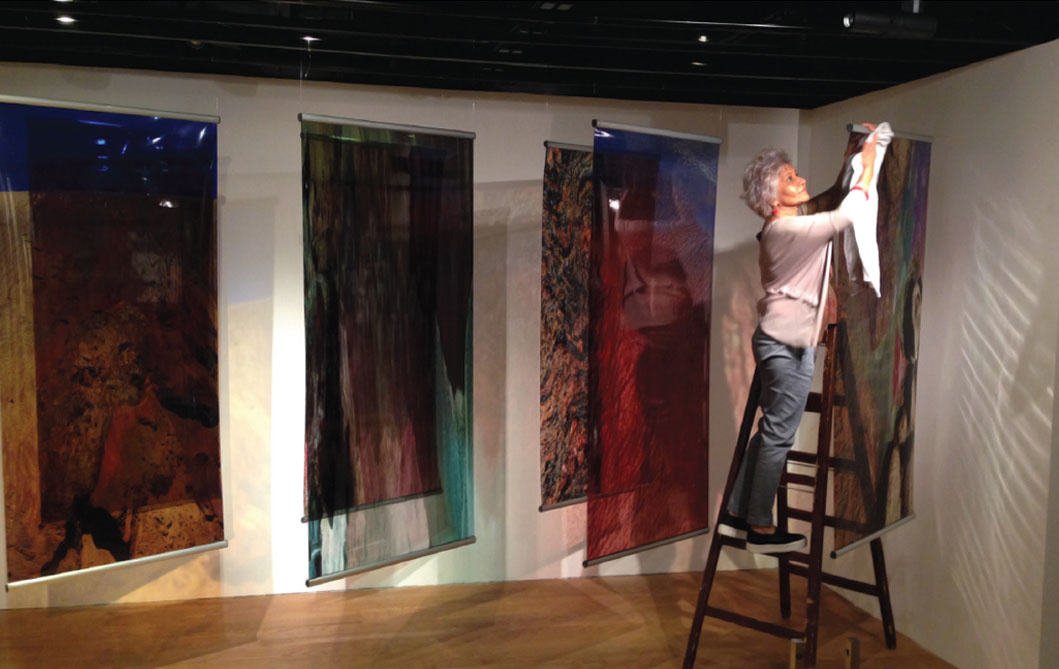 "My last climate crisis collection of work was shown in London in 2019. The exhibition was titled, 'The World is not Given by his Father but Borrowed from his Children', from a quote by James Audubon. Greta Thunberg, the activist and change maker, who created waves as a teenager by shedding light on the crisis, was featured in the series," says Anoma.
Anoma who held her first climate exhibition in 2005 in Sydney, focuses on her last climate crisis collection in 2019 in London and says:
"Each of the images possesses one common feature, a lone, red figure, symbolizing Greta and her dogged quest to save the Earth. This is the only time a named figure has appeared in my works, if only symbolically.
"The world is clearly aching from the devastation humankind has created and our very own shores in Sri Lanka aren't as pristine as we believe them to be. Habitat fragmentation, deforestation driven by unsustainable, short-sighted development projects and resource extraction, inadequate waste disposal mechanisms and the increase in human-wildlife interaction are just some of the numerous issues we must address.
"In 2018, the UN International Panel on Climate Change (IPCC) warned that we have 12 years to limit this catastrophe with urgent changes needed to prevent society from the risk of extreme heat, drought, floods and poverty…..now 10 years remain. What the future holds for these sensitive and biodiverse habitats, is entirely unknown. Recently Sir David Attenborough urged us to become protectors of our fragile planet and said, 'It will require systemic shifts in how we produce food, create energy, manage our oceans and our materials. It will require a change in perspective'.
"My work has attempted to shed light on our culpability in the destruction of our planet. Yet my art looks to nature as the ultimate healing tool, instilling hope by celebrating the joy of the natural world. After 7 exhibitions and a lifetime of watching the heedless devastation of our precious earth, it is clear to me that scientists, activists, writers and artists have no option but to continue to persevere to raise awareness and campaign for the preservation of our beautiful home, planet Earth.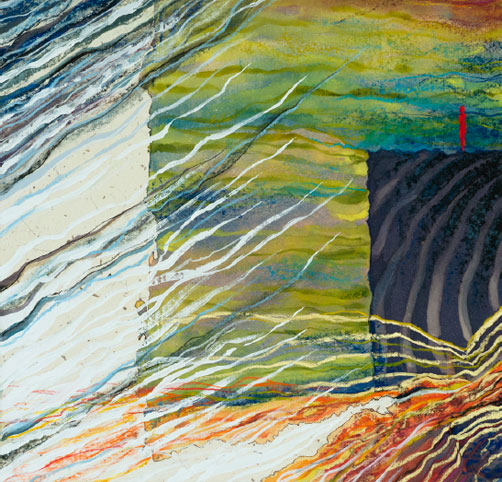 "The work reflects upon the universality of man and our common humanity in the face of conflict, division and human insecurities. It urges tolerance and inclusivity, sustainability and harmony and invites us to accept the stewardship we share of our fragile and fractured planet."
Anoma's paintings and installations encapsulate her passion for sustainability.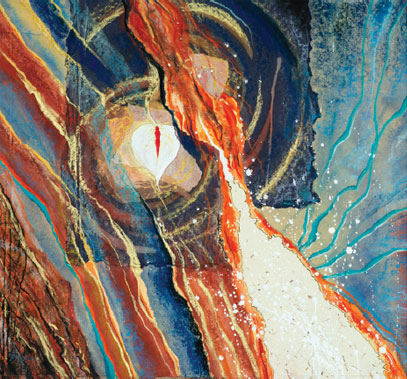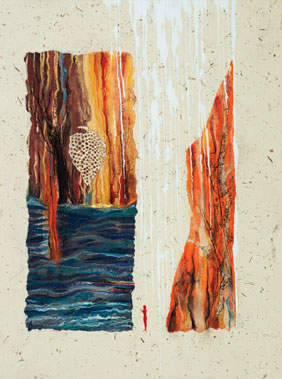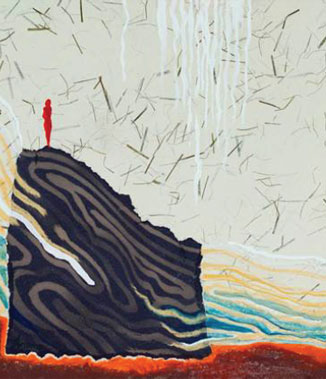 Two of the highlights of her career were an exhibition at Sotheby's Hong Kong in 2016 where her work was displayed next to Japanese artist Yayoi Kusama and at the Venice Biennale in 2019.
The last two years have been very difficult for Anoma as she, like most people, struggles to navigate the rough waters of COVID-19. Anoma was flummoxed by people telling her she now had plenty of time to paint while she was too anxious to do anything and felt paralyzed instead. However, the pandemic has resulted in another body of work, 'Vivikta', Sanskrit for isolation and purity, depicting the isolation, stress and trauma of dealing with the disease and the lockdowns.
Yet, despite all the challenges she exhibited in Sydney in March 2020, at the first ever virtual Sri Lanka design festival in January 2021 and in July 2021 in London.
Anoma adds: "Everything we know is affected by COVID; it is a watershed. We have to reframe and rethink our lives – how we interact with each and how we live with the environment and greed and consumption. Cities will possibly shrink and people will move to the countryside. We will have to have a different approach to the environment, to our planet, to life; we know the party is over.
"I am frightened by now and for the future as we lurch from lockdown to lockdown. Variants are going to keep coming. I can't figure out what it will mean for my life and my work and my friends. I can't see the shape of the future now. It is such a seminal moment of adaptation of regeneration of perhaps seeking a new path, a new life, a new way ahead?"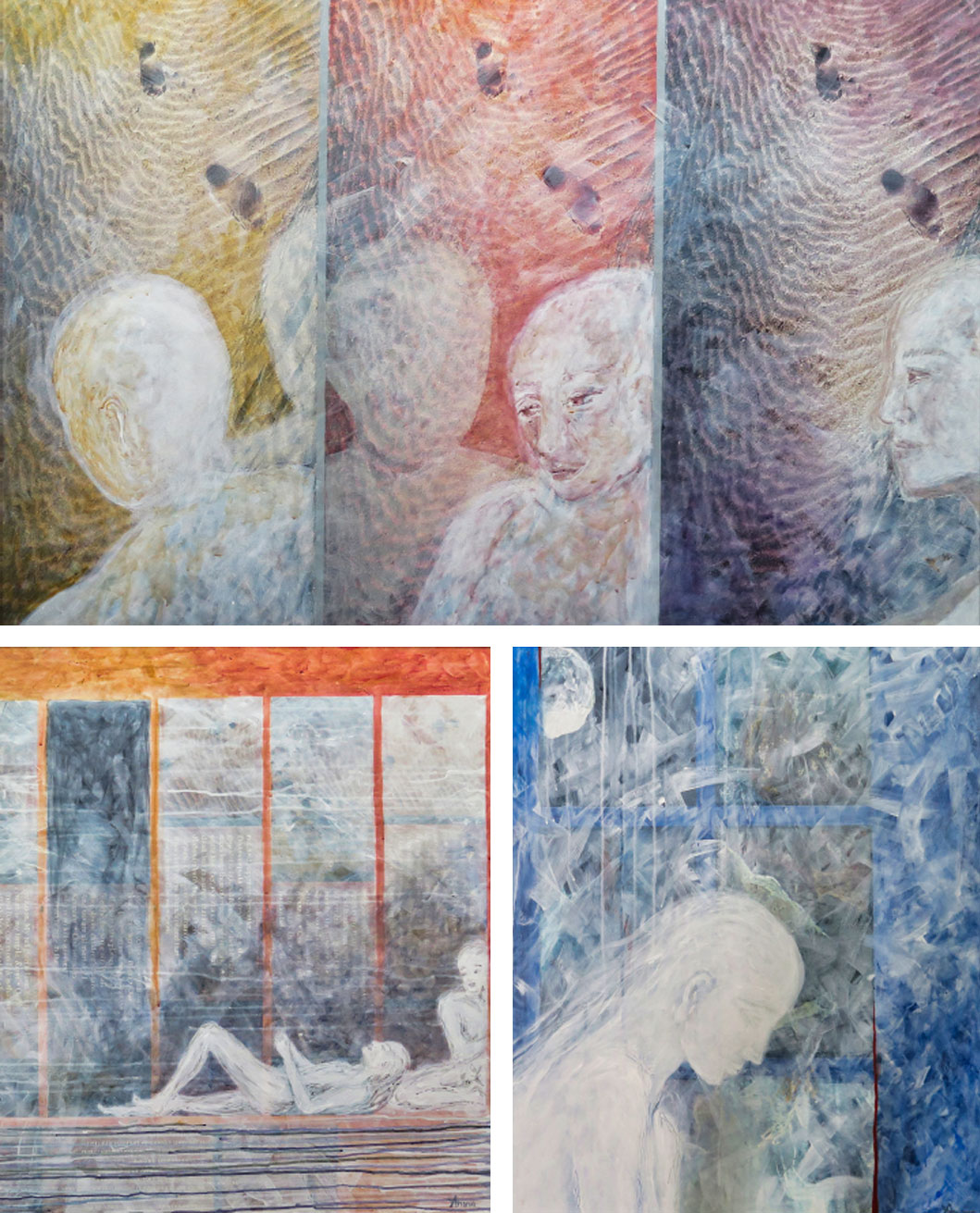 If you wish to get to know more about Anoma and her work, please visit: www.anomawijewardene.com. Her book, 'Anoma', detailing her life and work is available at bookshops.