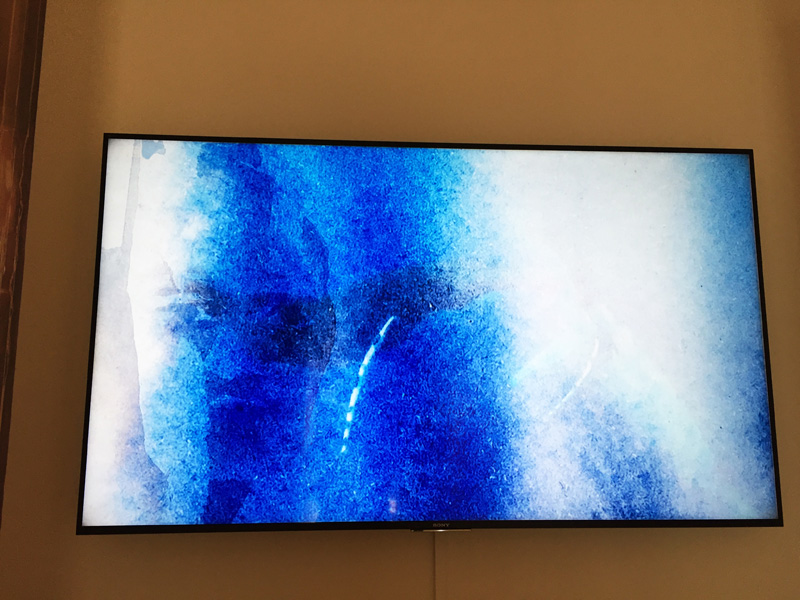 Kintsugi
Kintsugi was shown at the European Cultural Centre, Palazzo Bembo, Canale Grande, Venice during the 58th Venice Biennale. It was on for 6 months.
The work comprises of an interactive installation of floating laser cut mesh panels, alongside the book of poetry written for the art; and a 12-minute looped video, incorporating the art, words and music, accompanied by the scent of cinnamon.
Kintsugi, is a Japanese concept of restoration which celebrates the fractures and flaws of an object, examining the beauty of incorporating the broken without disguise. It celebrates re-unification and repair. The paintings which were inspired by the above concept are deconstructed and reconstructed; and are created out of unrelated and random elements, including the fractured and broken, to find beauty and healing in the unification of the diverse.
The installation is a response to the recent normalization of unconscionable intolerance, hatred and bigotry. As the desperate seek security and survival, societies are wounded and people are broken physically, emotionally and psychologically. We all need healing in today's context, whether we are in Colombo, Christchurch, Damascus or London.
The work is an invitation to rise from the shards of our shattered lives, to repair and to rebuild; to heal and find the harmony and renewal we need for a sustainable co-existence.
The poetry that Romesh Gunesekera has written specifically for the paintings examines the fundamentals of the concept in a parallel process of separation and reconstruction combining fragments of poetry and prose in a single unified poem. The music composed by Sharon Smith for the video synthesizes the recited poetry with tones from several cultures and genres of music
Kintsugi reflects on our common humanity in the face of conflict, religious fervor, and human insecurity, and invites us to accept the stewardship we share of our fragile planet.