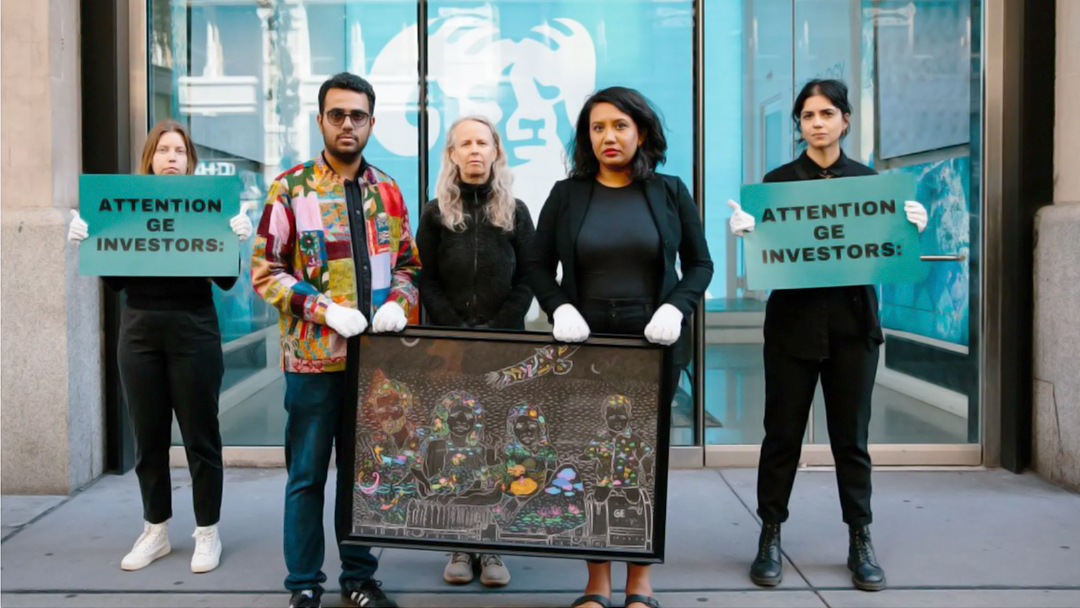 Artists join with climate activists, scientists to paint a greener future
Original article by Md. Tahmid Zami | Published: October 19, 2023
A growing group of artists, including from the Global South, are using their work to spark conversations and action on climate change
DHAKA – Investors in U.S. energy technology firm GE Vernova had some unlikely visitors in September when Ata Mojlish, a Bangladeshi new media artist based in Texas, joined activists to deliver climate-themed works to four financial companies in New York.
GE Vernova – a recently re-branded subsidiary of General Electric – is planning to supply turbines for large liquefied natural gas (LNG) power projects in climate-vulnerable Bangladesh, motivating Bangladeshi artists to join international campaigners in calls for GE to back non fossil-fuel energy instead.
Opening doors to science
Climate experts and communicators say it can be hard to make climate discussions – often couched in technical terms – understandable to ordinary people, especially those who speak languages other than English.
Artists can help untangle those concepts, said Deborah Hart, co-chair of CLIMARTE, an organisation that has harnessed art for climate action since 2010.
"Artists bring incredible skills to the table – they are complex systems thinkers who can take risks and be ambitious, and they care deeply about the issue," she said.
Since climate art took off as a recognisable trend in the early 2000s, its practice has grown rapidly.
Reaching hearts with nature
One veteran artist seeking to elevate hope over despair is Anoma Wijewardene, a painter born in Sri Lanka who calls herself a "citizen of the world".
Wijewardene has held several exhibitions touching on climate and ecology, with her first climate paintings dating back to 2005. They explore how humans relate to the natural world, conceived as both material and "numinous", or spiritual.
Her last climate-themed exhibition in London in 2019 featured nine paintings, each with patterns resembling landscapes touched with fiery orange and crimson where a small, lonely red figure lingers, symbolising the young climate activist Greta Thunberg on a boiling planet.
"I was so inspired by Greta that she crept in (to the paintings)," said Wijewardene.
The artist plans to continue focusing on climate change because of her personal concern about the issue. The key, she added, is to touch deeper human emotions.
"You need to show the beauty of nature to reach people's hearts – combining science and technology but also love – and that's how you change people," she said.
Read full article – Link