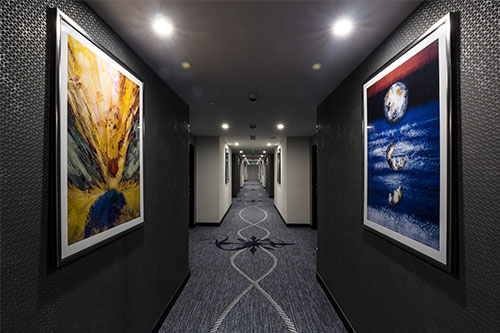 Fairway Colombo
Fairway Colombo, the chic city hotel that opened recently in Colombo has pledged a commitment to both the environment and the arts. An integral part of the hotel are the 300 artworks displayed throughout its premises and there are no works by any other artist in the hotel, making the Fairway Colombo as much of a permanent art gallery as it is a hotel. Art hotels are a rare but well-received concept and found in the coolest cities of the world. The curated works in the hotel are all themed around Mother Earth and the need for sustainable solutions to combat the damage humans have wreaked on the environment.
'To have been this once, completely, even if only once: to have been at one with the earth, seems beyond undoing' these words by RM Rilke inspired the keynote digital and perspex installation, 'Earth Rise within Us', was shown, in another medium, at Sotheby's and can now be viewed in the lobby.
The hotel has 181 rooms on 7 floors with a work in each bedroom. The prints in the bedrooms are one of six images from the Moonrise Tidefall l -Vll series which are quiet and contemplative works that explore the fissures and striations of the earth with minimal pops of colour. Each of the corridors of every floor display jewel toned bright and complex artworks and the configuration of prints on each floor are different.
Fairway Colombo is possibly the only hotel in Sri Lanka to feature a single artist, working on a single theme, creating awareness about a universal topic, perhaps the most crucial of our time – that of global warming and a sustainable planet.